Francis Marion Crawford
Francis has been my most elusive ancestor, I've been looking for about 30 years. I first discover him in the 1870 census in Oneida, Illinois when I find Francis M. Crawford, age 30, born in Indiana and his wife Nancy R., age 31, born in Ohio. The children listed are Harley W., 7; Elmer E., 6; John W., 3.


I was then able to backtrack and find him in the 1865 Illinois State census in Sparta Township, Illinois. The only town in Sparta Township is 5 miles from Oneida. In 1865 Francis is a farmer, in 1870 he lives in town and is a laborer.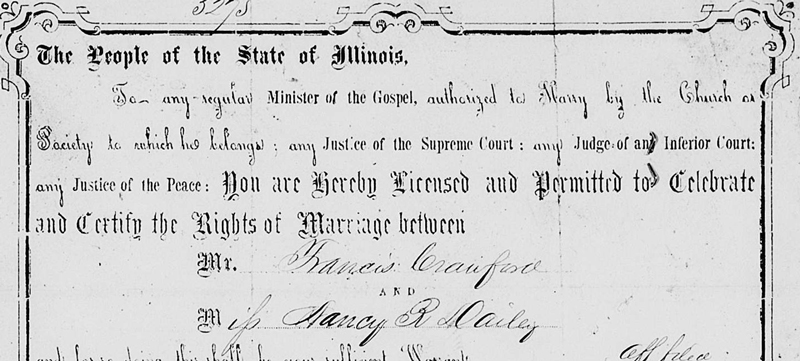 Further back I found the marriage certificate of Francis and Nancy R. Dailey, they married on March 23, 1862 in Galesburg, Illinois. The marriage license had no further information as to their ages, parents or birthplace. The aforementioned Sparta Township and Oneida are now in the greater Galesburg metropolitan area.
I had heard from a correspondent that Francis died on May 4, 1875 in Galesburg but she offered no proof.
Grandma Mabel told me that when Francis died he was "taken back home to Indiana" to be buried and that the cemetery was near a river. There are LOTS of cemeteries near rivers in the state of Indiana (more on this later). It seemed unlikely to me that a woman with 4 young children would arrange and carry that out. It later occurred to me that Francis died 20 years before Grandma was born and that her information might not be correct.
I next find Nancy and her four children in Worth County, Missouri and the marriage record of Nancy to her first cousin, Isaac Phillips, as his second wife on April 28, 1877. Isaac is almost 15 years her senior.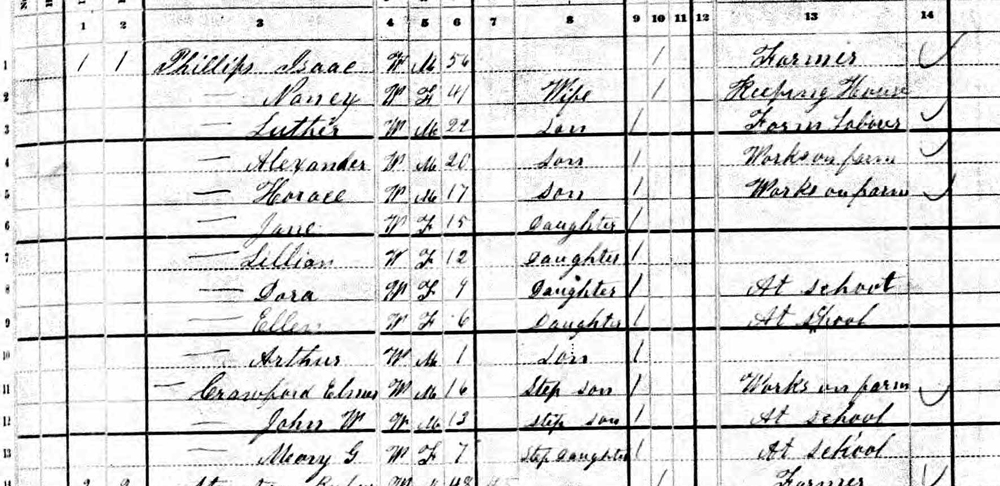 Isaac's first wife, Nancy Hanks, had 9 children in the space of 22 years,she died two years after the birth of number 9. It is likely, given the year, that she died in childbirth, she was 43 years old. It is also likely that at least two children were born and did not survive given the date of her marriage (1849) and the birth of the first child for whom I find records (1854).
When Isaac and Nancy Crawford married she had 4 children ages 5 – 14, Isaac had 9 children ages 3 – 23. The 1880 census shows a household of 13 children, ages 1 – 22. Harley, the eldest child of Francis and Nancy, is shown "working out" on a neighboring farm just south of Bedford, Iowa, he is 14 years old. My understanding is that Elmer also left home at a very early age, it was said because he didn't get along with his step-father. The fact that 13 - 14 children in the household didn't help. Nancy and Isaac would go on to have 4 children of their own.
I had found out all of the aforementioned pretty quickly but was never able to get back to the parents of Francis Marion. Fast forward to the advent of DNA in genealogical research. I have now been connected to 7 researchers with whom I share DNA, 4 are descendants of Francis' half-siblings, 1 from a sibling and 2 from Francis. The two descended from Francis are a granddaughter of Deed and a great-granddaughter of Elmer's sister Mary Geneva. I can now trace Francis back 3 generations.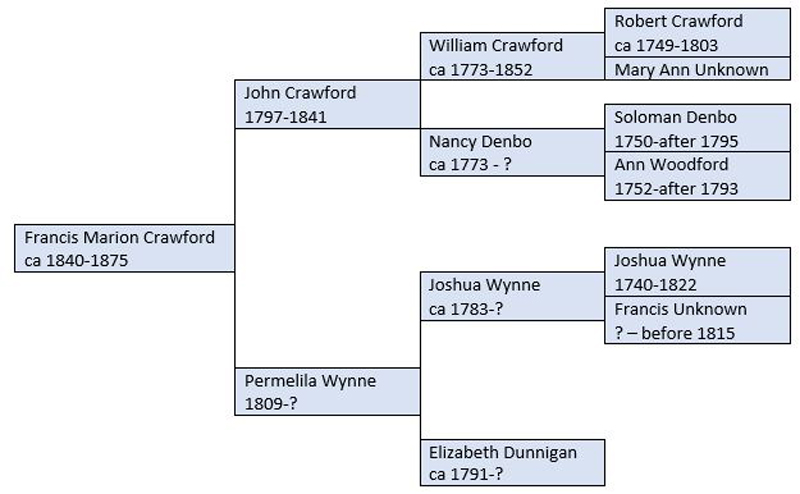 JOHN CRAWFORD
was born 1797 in Shelby Co, KY and married, Mary Booker, b. 1801 in Corydon Co., IN, the marriage took place in Harrison County, Indiana. Mary Booker died in 1828 during the birth of her fourth child, the child survived. John then married PERMELIA WYNNE, the daughter of Joshua, in 1829. They had 3 children together: Lucinda Jane (about 1833–1870); Marquis DeLafayette (1836-1927) and Francis Marion, born about 1840.
John died in 1841 at the age of 44, his will written in 1837 mentions son William, from his first marriage, and Marquis, directing that at age 15 they be bound out to learn a suitable and profitable trade. Francis, who is about 3 at the time of his father's death is not mentioned nor is John's first born son George. I assume John did not update his will when Francis was born and that George was well established by 1837. The will instructs the executor to sell such property as is necessary to pay all his debts and the remainder to be delivered to his wife Permelia to be used for her own support and the support of his infant children during her widowhood or until the end of fifteen years.
In the 1850 census the children of John and Permelia are each enumerated with a different family. Lucinda Jane, age 17, is living with her half-sister Louisa Crawford Gilmore. Marquis, age 14, is living with his uncle Jonathan Crawford. Francis, age 10, is living with his half-sister Christena Crawford Jenkins. I find a record of their mother Permelia marrying again in 1846 but he is not to be found in 1850. In 1850 Permelia is living with her father and in 1860 with her eldest daughter and her husband.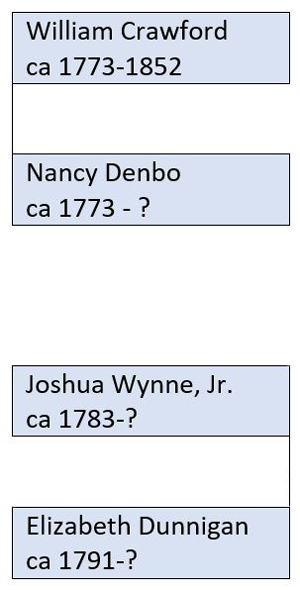 WILLIAM CRAWFORD and NANCY (DENBO) CRAWFORD
,

were the parents of John. William and Nancy were each born about 1773 in Pennsylvania. He was the eldest of 9 children, all of whom survived to adulthood.

The will of William Crawford was written in February of 1852 and proved on November 16, 1852. The provisions of the will are as follows:
All of his home farm to son Johnathan Crawford and his children and their heirs. Johnathan, in consideration of this is to keep and maintain his mother in a comfortable manner during her life and to bury her without charge after her death.
To the children of his son Lewis he directs the executor to purchase land in the sum of three hundred dollars to be held by them and their heirs. Money to come from the sale of his personal property.
To his son William he gives two hundred pounds of bacon.
The residual of his personal estate is divided between his daughters Nancy Eckard and Rebecca Flanagan equally.
At the time of his decease Johnathan Crawford, his youngest son, who gets the farm was 32. Lewis who gets $300.00 for land for his children is 41. William who gets bacon, lots of bacon, is 37. The remainder goes to daughters Nancy and Rebecca, Nancy is a 36 year old widow and Rebecca, married and 46.
Not mentioned is his son Josiah, 50 and daughter Elizabeth who died 12 years earlier, leving 6 children. Lewis (age 41) is mentioned but only in that his children get land. Also not mentioned are the children of his deceased son John, our ancestor Francis being a 12 year old orphan at the time. Aside from knowing the name of her parents little more is known of Nancy Denbo Crawford, it is thought she died about 1852.
JOSHUA WYNNE JR. AND ELIZABETH (DUNNIGAN) WYNNE
parents of Permelia, were both born in the late 1700's in Virginia. They married in April of 1806 in Barren County, Kentucky. They had 4 known (by name) children but likely had more. In 1810 they are in Kentucky with two children. In 1820 there are 5 children. 1820 also shows the presence of 7 slaves, all males under the age of 14. 1820 is the only census where slaves are enumerated. I have been unable to find either parent after the 1850 census.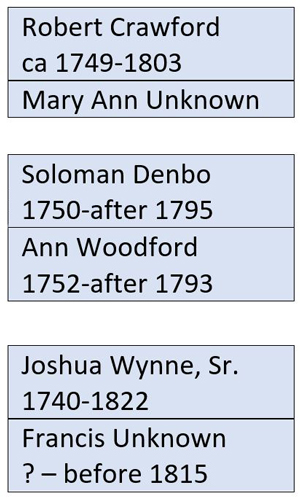 ROBERT AND MARY ANN CRAWFORD
are the parents of William. I have been unable to find the birthdate and place or maiden name of Mary Ann nor when and where she died. Robert was born ca 1749 in Pennsylvania, he and Mary Ann married in Baltimore, Maryland about 1767. Robert died in Hardin County, Kentucky in 1803.
Researchers are fairly certain that Robert was the son of George and Elizabeth Crawford but it needs further research.
SOLOMAN AND ANN (WOODFORD) DENBO
are the parents of Nancy Denbo they were born in 1750 and 1752, respectively, in Pennsylvania. The birthplace of most of their 6 known children is listed as Kentucky. In 1795 Soloman is listed on the tax list in Shelby County, Kentucky. Another of their daughters also married a Crawford, Sally married John Crawford, brother of William.
JOSHUA AND FRANCIS (UNKNOWN) WYNNE
are the parents of Joshua Wynne, Jr.. Joshua was born about 1740 in Virginia. They had 5 children I was able to trace. The 1810 census shows them in Barren Co., Kentucky and the 1820 census in Harrison Co., Indiana. Joshua's will was written on Oct. 11, 1821 and probated in February of 1822. In 1820 they are enumerated with 1 slave and in 1820 with two.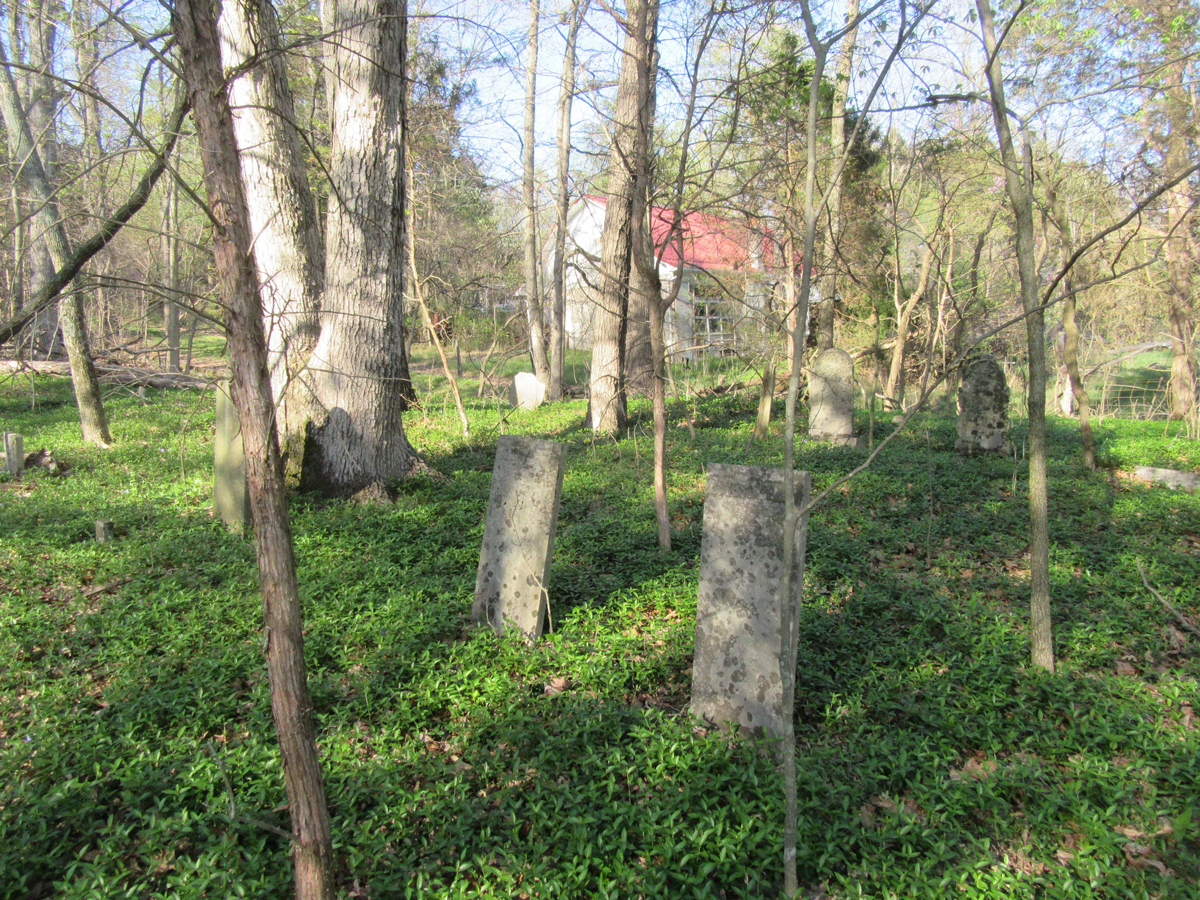 Regarding a cemetery "back home" near a river. The most likely cemetery is Denbo Cemetery in Corydon, Indiana. Francis' grandfather is buried there as well as several other Crawford's in our line. The half-siblings of Francis are known to have been born in Corydon, Harrison County, Indiana so it is likely Francis was as well. Francis's brother Marquis lived in Corydon until his death in 1927.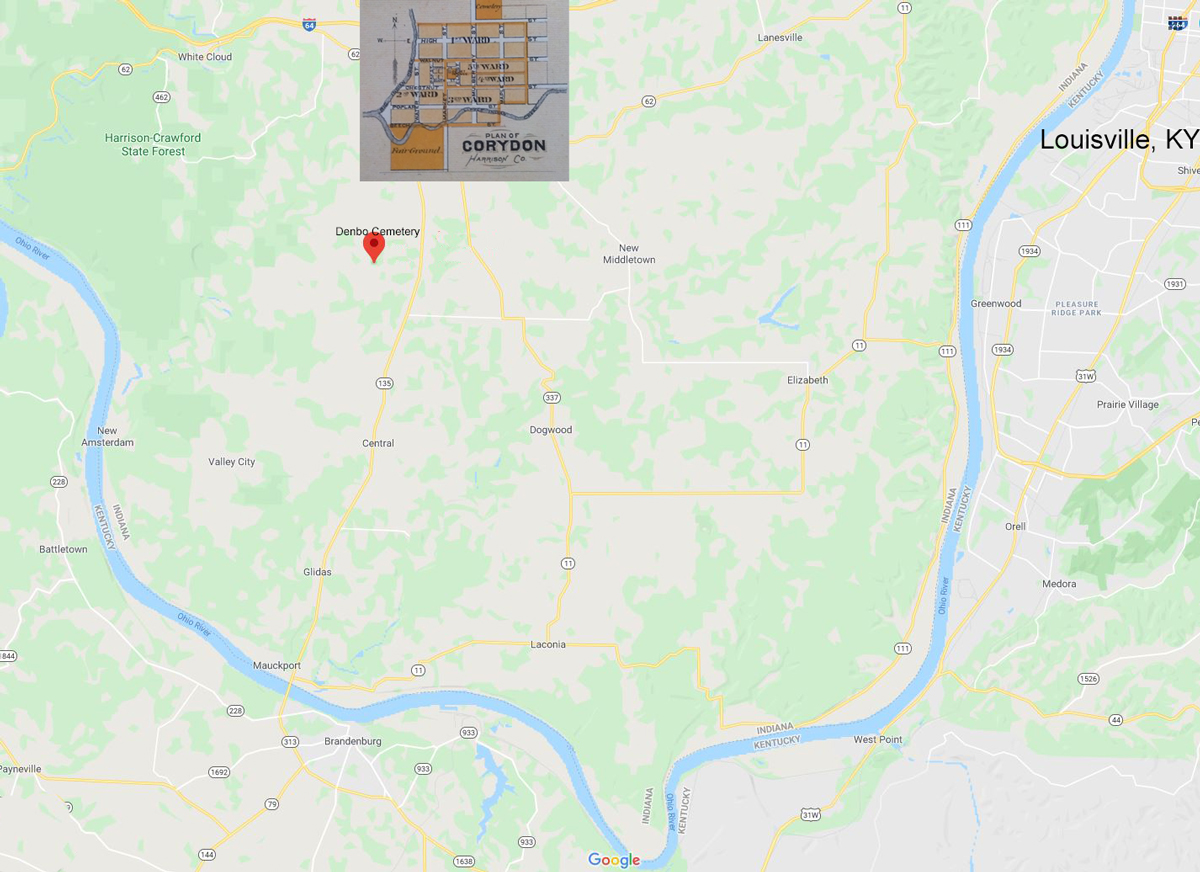 History of Corydon
Corydon is about 25 miles west of present day Louisville, Kentucky and just north of the Ohio River which serves as the boundary between Kentucky and Indiana. The area around Corydon was first settled in 1792 in the midst of the Northwest Indian War, the war caused the settlers to move back, over the Ohio River, to Kentucky. Our ancester, Robert Crawford, died in Hardin County, Kentucky in 1803. Hardin County is directly across the Ohio River from Harrison County, Indiana. As an aside, Hardin County was the birthplace of Abraham Lincoln in 1861 although that area is now part of another county in Kentucky.
Families returned in 1800 following the creation of the Indiana Territory. In 1804 Corydon was established in the place where the Big Indian Creek and Little Indian Creek join to become Indian Creek. Corydon was the 2nd capital of the Indiana Territory and the 1st capital when Indiana became a state in December of 1816. Corydon remained the capital until 1825 when it was moved to Indianapolis.
Our ancester William was born in Pennsylvania but married in Kentucky in 1796. The first of his 9 children to be born near Corydon, Indiana was Nancy in 1816, the year Indiana became a state.
Our ancester John, father to Francis, was born and died near Corydon and Francis is enumerated there in the 1850 census. All of Francis's siblings and half-siblings remain in the area for all of their lives, some moving one county west to Crawford County (relationship to our Crawford's unknown). This would mean that they were all around for The Battle of Corydon.
The Battle of Corydon and the Battle of Gettysburg were two of the very few battles fought on Northern soil and both were fought at the same time. On July 9, 1863, Confederate brigadier general John Hunt Morgan's cavalry of more than 2,000 men crossed the Ohio River into Indiana to begin what is known as "Morgan's Raid". The Confederate troops opposed about 450 members of a hastily assembled home guard at the Battle of Corydon outside of town, but the Union forces were quickly defeated and the town surrendered. Corydon was sacked in retaliation for Union looting in Kentucky, the town's treasury of $690 was seized, and the inmates of the local jail were released.
Indiana - Kentucky Border
The Ohio River was once the southern border of the holdings of Virginia. In 1781 Virginia ceded land to the Northwest Territory and Kentucky although the deed was silent as to where in the river the border was drawn. There was soon a dispute between Kentucky and Indiana as to where the border should be. Kentucky declared the border to be the opposite shore at the high-water mark. Indiana felt that the border should be at the low-water mark because of a jut of land near Evansville that was a peninsula to Indiana during low water and an island during high water.
The dispute came before the US Supreme Court in 1820 where Chief Justice John Marshall decided the case in favor of Indiana. He ruled the low-water mark must determine a state's boundary. Thereafter Kentucky claimed the entire river as its own and thus received millions of dollars in revenue from fishing, boating , liquor and other licenses granted for use on any portion of the river.
Back to the courts...In January of 1980 the US Supreme Court ruled that the boundary should be the low-water mark on the Ohio and Indiana shores as it was when Kentucky became a state in 1792 and the states were directed to settle the matter accordingly. However, since 1792 the river had shifted over the previous 200 years and its water level changed due to dam construction. Indiana and Ohio were claiming the 1792 boundary to be somewhere near the middle of the river while Kentucky was claiming parts of Evansville and Clarksville, Indiana.
The US Geological Survey used data from two surveys conducted by the Corp of Engineers in 1896 and 1914 to establish the 1792 low-water mark and thus Evansville and Clarksville remain in Indiana.