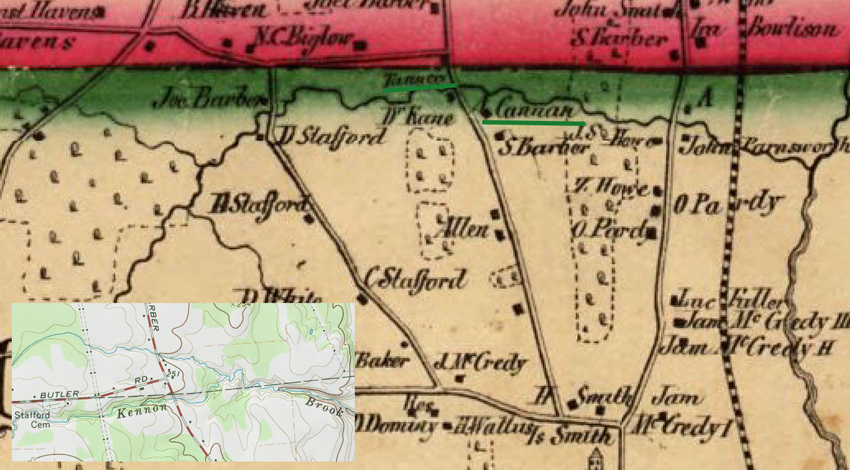 My great-grandfather, Frederick "Fred" Albert Kennon, was born in 1857 near Plattsburgh, NY on a farm and tanning operation on what is now known as Kennon Brook. The brook meanders through Clinton County and finally empties into Lake Champlain just above Plattsburgh.
His father, Albert Gallatin Kennon, and grandfather, David Kennon, had been working in this area for at least 38 years.
The map on the left, from 1856, shows the home and tannery underlined in green. (Clicking on the map will enlarge it).
The topographical inset map shows present day Kennon Creek. The names on the old map are very familiar to my research and Stafford Cemetery shown on the inset map is full of family.
David Kennon
was born in Massachusetts in about 1786, the first proof I find of him in New York is the birth of his 5th child in 1819. There is a David Cannon (sic) in the area in the 1810 census although I am not sure he is "my" David Kennon as the age is off and there are way too many people in the household. However, the 1820 census shows 9 people in the household which is two more than I can figure out. David fathered at least 12 children by two wives, 10 daughters and 2 sons. The two sons are our Albert and his younger brother Septa. As an aside, I was confused by Septa's name as is refers to the number 7 although he was the 2nd child of David and Fanny (Fillmore) Kennon. Many years later I found the first wife of David, Sophia Tousley, and their children. Turns out Septa was the 7th child, if one discounts two that died as infants.
Septa died in 1856 at the age of 23. The 1860 census shows that all the children (all unmarried daughters) born after Septa are living with family members elsewhere, perhaps the tanning business could not support such a large family. Albert lives next door to David with his wife Elizabeth "Betsey" (Garrett) Kennon and their two children Frederick and Clara, ages 3 and 1 respectively. David's occupation is listed as farmer and currier (dressing, finishing and coloring a tanned hide). Albert's occupation is listed as farmer and tanner.
David Kennon died about 1872, his wife Fanny died in 1869.
Albert Kennon
moved to Iowa the early to mid 1870's, Fred was about 15 and Clara about 13. They settled in Nodaway Township, Adams County about 15 miles southwest of present day Corning.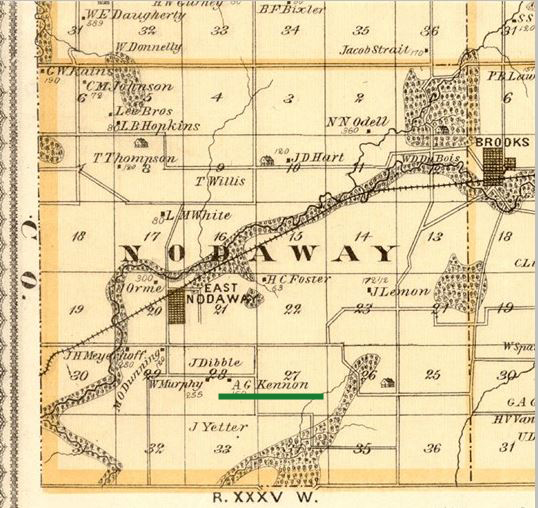 Clara married in 1880 to Louis Worley, he was the superintendant of schools in Adams County. Louis died 8 years later and Clara then moved back to Champlain,New York; later she was in Albany, NY and finally died in 1931 at the age of 71 in New York City; she is buried in Greenfield, Massachusetts.
Elizabeth (Garrett) Kennon died in 1887 from an "abscess of abdomen," she was 62. Albert remarried about 18 months later to Sarah Clarinda McClelland; he was 57, she was 32. Together they had three children.
Albert died in March of 1902,his obituary along with many others was pasted into the middle of a bible that was in my grandparents home. His obituary and the obituaries of Frank and Henry LaRue as well as Fred Kennon's fascinated me as a kid and I would return to them again and again. The bible and a drawing entitled "Family Record" that listed the birthdates of people in the early 1800's with a name I was not familiar with (Dailey) is probably why I got so interested in genealogy. You can read those obituaries on the individual pages of each of those persons.
Frederick Kennon
Fred married Clara Edith Daisy "Daisy" LaRue in April of 1887 a month before the death of his mother; he was 29 and Daisy 21. When applying for a marriage license Fred gives his occupation as telegraph operator in Corning, Iowa, his obituary says it was for the Burlington railroad.
Daisy gave birth to five children within the next 11 years, two girls and three boys. The third was a girl that died either at birth or early infancy. My understanding is that Fred abandoned the family about 1906 when my grandfather was just 8 years old and that he later died in a boarding house in Oklahoma City. A sketch of his life published 10 days after his death stated "Mr. Kennon had been away from here, most of the time, for several years."
My idea of a traveling salesman was formed by watching "The Music Man," a bunch of guys in straw hats happily singing on the train between towns and occasionally, like the anvil salesman, having a little trouble making a sale. The picture painted by Frederick's probate records, which I recently discovered, paint's a very different picture - more Willy Loman like.
Fred's obituary says "On the afternoon of his death he complained of not feeling well and in the evening a physician was summoned. He left the patient resting easier and went to supper. On returning later in the evening, he found Mr. Kennon dying, and the best efforts to sustain him proved unavailing"
Frederick died with $125.44 on his person, some clothing, two watches, various trunks, grips and suitcases, and a package of books. It appears as if his co-workers were not immediately sure about his family, the day after his death a "next friend," C. D. Maberry, applied to be special administer of Fred's estate. The petition says Fred has died intestate and has no known heirs. The next document, also dated the 3rd, instructs Mayberry to oversee the return of the body to Iowa, to "his people."
Maberry returned to the court February 12 to inform them that Fred was "simply working here for wages" and that his family resided in Corning, Iowa. He gives an accounting of assets and debts discovered. Among the debts are doctor bills totalling $7.00; the undertaker, $86.00; court costs of $16.05 and $12.50 from his boarding house for damage to the appointments caused by his death. After expenses his family was left with 39c. Click on the link below for all probate records.
Fred's body was returned to Iowa on February 5, his funeral was held February 6.
In addition to a sketch on the life of Fred Kennon published February 12 the newspaper carried another detailing the fact that Fred had left behind life insurance that paid his widow $6548.00 after expenses."


Probate Records